Hello Lower School!
Yesterday our K-4 students were treated to Pinocchio, performed by Live Theater Workshop. The adaptation was complete with unique costumes and characters, and held true to the moral of the original story, emphasizing truth, integrity, and compassion. The actors and directors held a ten minute Q & A after the show, providing students the opportunity to get the inside scoop on how to write a play, the amount of time it takes to put a show together, and how they managed to get Pinocchio's nose to actually grow! Thank you to Ms. Allen for organizing this wonderful experience for us!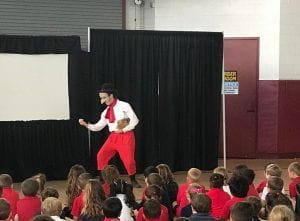 Vision/Hearing/Speech Screenings
This week our students will participate in speech, hearing, and vision screenings.
Monday & Friday – speech (Kyle Meades, speech therapist)
Tuesday & Thursday – hearing (Nurse Erika Huff)
Friday – vision (Arizona Lions Vision & Hearing Foundation)
These screenings are free to you. If you do not want your child to participate, please let your child's classroom teacher know by Monday. You will be notified of results only if your child is recommended for further evaluation.
Progress Reports
Your child will receive their first progress report on Wednesday, inside the Eagle Express folder. These progress reports provide an overview of how your child is currently performing academically and socially. These reports are a great way to acknowledge student strengths and weaknesses, and identify specific goals moving forward. Please contact your child's teacher if you have any questions.
Grandparents Day! – and Special Friends:)
We are thrilled to be hosting a special Grandparents Day October 18th! We have some very special activities planned including a welcome breakfast, a performance by our advanced choir, photo ops, and an opportunity to spend time with grandchildren in their classroom. If your child will not have a grandparent present, please feel free to invite a special friend to join instead. This could be an aunt, uncle, cousin, or close family friend! Be on the look out for more information in the coming weeks.
New Parent Reception
This Wednesday (10.2) we will be hosting a New Parent Reception from 6:30-8:00 PM in the Smith Parish Center. This is a social, providing new families with the opportunity to mingle while enjoying hors d'oeuvres, beer, and wine. I hope to see you there!
Appreciation
Over the last seven years I've found St. Michael's to be much more than just a school. It has always felt more like a family that celebrates success, faces challenges together, values integrity, perseveres, and sets the standard for commitment to children. We are stronger together, and it is our kids who ultimately reap the benefits. This is an incredible K-8 journey we are on together, and it is a true blessing to be part of a school family that cares deeply and supports one another.
This Week
Monday 9.30
All School Chapel
Speech Screening
Musical Rehearsal 3:30
Karate 3:30
Tuesday 10.1
Value of the Month – Love
Hearing Screening
Hip Hop
Musical Rehearsal
8th Grade Fundraiser at Chipotle 6501 E. Grant Rd 4:00-8:00
Wednesday 10.2
SMA Meeting 8:05 AM
Chess
New Parent Welcome 6:30-8:00 Smith Parish Center
Thursday 10.3
Hearing Screening
K-4 STEM Club
4-6 Math Club
Friday 10.4
3rd Grade Bake Sale 7:30-8:00
Speech & Vision Screening
LEGO Class
Have a wonderful weekend!
Warm Regards,
Ms. Hart
Lower School Director