Hello Lower School!
SAES
This year, St. Michael's is participating in a school accreditation through the Southwestern Association of Episcopal Schools (SAES). We are nearly done with the year-long written portion of the self study, and are now preparing for the on-site visit, which includes a team of educators. On Thursday, we were delighted to welcome Chris Gunnin to our campus for a pre-visit. Mr. Gunnin is the Head of School at St. Stephen's in Austin, as well as the chair for the SAES visiting team that oversees our re-accreditation. He was able to visit every classroom, and spend time talking to teachers, students, and administration. He will return with a team of educators the week of March 23rd to complete the accreditation process. We are all looking forward to his return!
Math-a-thon
The kids are looking forward to showing what they know this week! The math tests will be administered Tuesday 1.28, and the collection packets will go home on Friday 1.31. Thank you for considering participating in this fundraiser. It's such a fun way to raise money for our school. There are wonderful prizes in store for all participants.
Admissions Screening
Our first screening for admissions will be February 1st. Our kindergarten time slots are full, but we still have openings for grades 1st-4th. We have also begun registering applicants for the March 7th screening. Please refer interested families to Dr. Matt Teller for further information. Thanks!
Edible Car Contest
It's that time of year again! The kickoff to Science Week wouldn't be complete without the annual edible car race. For rules and information click here. Students may register individually, or as part of a team. The registration deadline is Friday 1.31. The race will take place Monday, February 3rd during all school chapel in the student center (gym).
Tubac
Our 3rd graders got to travel back in time as they spent the day learning in a one room school house in Tubac. Special thanks to Ms. Pam Stalkfleet and Mr. Aaron Gould for making this field trip come alive!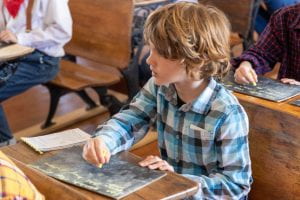 Congratulations to all our students who participated in the musical, Into the Woods. WOW!! Our kids are incredibly talented. Special thanks to Dr. Antista, and all the volunteers who built sets, designed costumes, and helped keep rehearsals and performances organized and running smoothly. It was certainly a team effort. Bravo!!
Warm regards,
Mandy Hart
Lower School Director